In March of 1861, the then superintendant-general of education, one Dr. Langtham Dale, was displeased that no school has been built in Kuils River up until that time. The parents of the community had no interest in a school or even education.
By 1862, a Mr J. B. Topp started teaching children in Kuils River in the mornings and in Twaalf Mylpaal (Twelve Milestone), later known as Bellville, in the afternoons. Only 15 learners were enrolled, but as many as 35 learners in Kuils River still did not attend school. Kuils River was a farming community and the parents (farmers) needed labourers on their farms. As a result, these learners were kept at home to assist on the vegetable- and chicken farms.
By 1868 one Mr. Frederick Truter gave schooling another try in Kuils River,but to no avail. For a full term he taught children from his own home,receiving a meagre salary. Eventually he had to close down the "school" because the parents were just not interested in education for their children. In the years following, three more teachers attempted, but all were unsuccessful.
On 1 August 1874 a school was opened in Main Road (now known as Van Riebeeck Way). Mr Jan van Veersen was appointed as the first principal. The building was very primitive, but at least the school was functioning well by now. This building doubled up as a church because the building was erected on church grounds. The number of learners increased to such an extent that a hall was added by 1897. Later more classrooms were built.
Early in 1934, the school boasted with 207 learners, 106 of whom were primary school learners. By 1937 the school committee started negotiations to have the school moved to bigger premises.
In February 1939, the school moved to the location where De Kuilen Primary is currently situated. Mr Kuhn (better known as the author, Mikro) was appointed as the principal. This new building was used mainly for the high school learners, while the primary school learners stayed behind in the old building in Main Road. On 1 March 1943, the new school building was officially recognised as a school.
In 1944 Mr Kuhn was succeeded by Mr Barry Strydom.
In January 1952, the school was granted status as a high school.
In time, however, the building could not house both primary and high school learners and a new building was erected across the road from the existing school.
In 1961 the high school learners and their teachers moved to their new school building. For a little more than 2 years, one Mr Jan Visagie served as the principal for both the high and the primary school.
In January 1964, De Kuilen Primary and De Kuilen High were officially separated and could operate as independent schools.
From 1966 Mr. Piet Barnard served as the principal of De Kuilen Primary.
Today, De Kuilen Primary is a proud school with a unique character, serving the community of Kuils River with pride and dignity.
The first school in Main Road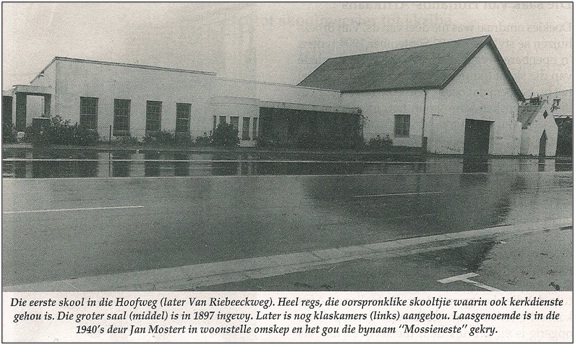 The school of 1939